Instead of breeding familiarity, its schedule will unfold in fits and starts. Even those who are interested in watching it will go weeks without the opportunity to do so
Article content
Patrick Reed allegedly threw a tee at Rory McIlroy on the driving range this week.
Article content
Note the use of "allegedly" in the previous sentence, because Reed, one of the big-name defectors to the Saudi-funded LIV Golf enterprise, has become something of a full-time litigant these days, with defamation lawsuits and legal threats against dozens of people, including golfers, journalists and golf commentators, from Brandel Chamblee to Bob Costas to Jake Tapper.
Article content
The alleged tee-projectile incident, purportedly because McIlroy, one of those many defendants, ignored Reed on the range at the DP World Tour event in Dubai, will no doubt add to the latter's grievances against the media. Video suggests the tee was, at most, flicked in McIlroy's general direction. Complaints are likely being amended right now.
Article content
Another LIV Golf story this week has received much less attention: the release of its full schedule. Originally planned for November and delayed repeatedly since then, the unveiling of the 14-tournament slate finally happened on Tuesday. And, as with everything with LIV Golf, it is a puzzler.
Those 14 tournaments are spread across 10 months. The season begins in four weeks in Mexico, and ends in November in Saudi Arabia. For a nascent league that drew tiny viewership numbers over its first, shortened schedule thanks to its lack of broadcast television deals, you might think there would be a concerted effort to build momentum and audience familiarity with a string of events in Year Two.
Instead of 'Golf, But Louder,' the LIV slogan could be 'Golf, But, Like, Not Too Much of It'
Not so: tournaments are often spaced out by several weeks, even in prime golf season. There are two events in the United States in March, then it goes to Asia in April, returns to the States twice in May, then moves to Europe for one tournament that begins a month later, and another in early July. So, over five spring and summer months, that is eight events, and just four of them in the United States. The schedule concludes with one tournament in September, one in October and one in November. Instead of "Golf, But Louder," the LIV slogan could be "Golf, But, Like, Not Too Much of It."
Article content
Instead of breeding familiarity, the LIV schedule will unfold in fits and starts, and even those who are interested in watching it will go weeks at a time without the opportunity to do so. The curious scheduling might help explain why, when a U.S. television deal was finally announced last week, it wasn't with ESPN, Fox Sports, or any of the major broadcast networks, but The CW, a network that is targeted toward young-adult viewers with shows like Gossip Girl and Riverdale. The average golf viewer has probably never watched The CW unless they happened to be in room when their teenager had it on.
Greg Norman, the cantankerous face of LIV, correctly noted that the TV deal will make its events available in the majority of American homes, but it's a little like going shopping for a luxury sports car and coming away with a scooter. Even the big streaming services, which will broadcast anything, gave LIV a pass. Just this week, Major League Pickleball announced deals with CBS and ESPN. Pickleball!
Article content
All of this would be concerning for any other upstart league, but LIV, funded by a bottomless well of Saudi billions, doesn't have to make any actual business sense. Norman and his benefactors wanted something to rival the PGA Tour, and LIV, on some level, is at least that. It poached a number of PGA stars, and some other guys, and it made a lot of golfers extraordinarily wealthy (and even helped out non-defectors after the PGA sweetened its prizes in response).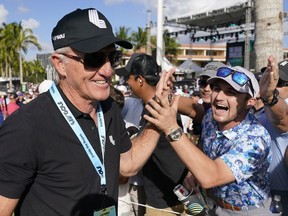 But even the players who signed up must be wondering a little about what they have joined. At the end of its first season there was speculation about an imminent TV deal with FOX, which is no longer a PGA Tour partner and is also a natural alliance with a league that counts Donald Trump among its most high-profile supporters. (Three of its tournaments will take place at Trump-owned courses.) Its players have plummeted down the Official World Golf Rankings, as LIV events aren't recognized by that organization. They may yet be incorporated into that points system, which is key for players seeking to gain entry to golf's four major championships, but it's hard to see how a LIV event, which is 54 holes, has no cut, and a 48-man field, could have the same points value as even a regular PGA Tour contest, which is 72 holes, has a cut, and begins with 144 players.
Article content
LIV can still maintain to have pioneered the concept of team golf, which is a concept that did not need pioneering. Quite why any casual golf fan, or even a devoted one, would develop a rooting interest in a collection of four golfers given a random team name and logo remains a mystery. I went on the LIV website to see if I could buy a Fireballs hat, but alas no team merchandise is yet available. I could buy one of two LIV-branded caps, though. Straight brim or curved.
LIV's next season begins in less than a month.
Postmedia News
sstinson@postmedia.com
Check out our sports section for the latest news and analysis. Care for a wager? Head to our sports betting section for news and odds.