For all of the controversy and attention that PGA-rival LIV generated, it hasn't demonstrated yet that there's an audience for its events
Article content
The LIV Golf Invitational Jeddah, the final individual tournament in this inaugural season of the breakaway league that blew up professional golf, came down to a playoff.
Article content
Brooks Koepka, the four-time major championship winner and one of the crown acquisitions of LIV, backed by untold millions of Saudi Arabian dollars to rival the fusty old PGA Tour, faced off against Peter Uihlein, his former roommate, to decide the tournament.
Article content
The stakes were impossibly large. In addition to the US$4.75-million prize to the winner, bonus money in a season-long points race was up for grabs. Uihlein, with a win, would finish second in those standings and earn another US$8 million. (Koepka wasn't a factor in that race, which awarded bonuses to only the top three finishers.)
Uihlein, 33, had never finished higher than third on the PGA Tour in a decade of starts. Koepka, 32, had a far more glittering resume, but spent much of the past two seasons injured and had struggled to regain his past form. Now the close friends and teammates — yes, LIV Golf has teams — were squaring off over a tournament with a ridiculous payday. The first-place prize money alone was more than Uihlein had made in his PGA career.
Article content
And, funny thing: Almost no one was there to watch.
On the first playoff hole, the par-5 18th, both men made birdies. As they did, the broadcast microphones picked up the sound of applause that could be charitably described as a smattering. It is the kind of sound you hear on a golf broadcast early on a Thursday or Friday, when the crowds haven't arrived yet and a dozen people offer golf claps for a random par.
When Koepka and Uihlein played the 18th again for the second playoff hole, the suites and balconies next to the 18th green still looked to be largely empty, although some people were milling about. The gallery, such as it was, included perhaps a few dozen people, most standing in the shade provided by one of the suite complexes. There were ropes running around the green that are typically used to keep fans from getting too close to the action, but no one was behind them. That had been the case throughout three days of broadcasts from Jeddah, where it was possible to tune in for long stretches and see no fans on the Royal Greens course at all.
Article content
It made for a particularly surreal scene in what has been a surreal year for professional golf. Koepka and Uihlein were battling over the biggest payday in the sport's history — Dustin Johnson had already clinched the first-place season-long prize of US$18 million — and, given the atmosphere, they might as well have been playing each other for a friendly ten bucks a hole.
That baffling scene, though, was of a piece with all that has happened in Golf's Year of Chaos. LIV — the moniker is the Roman numeral for 54, the number of holes in LIV's events, down from the traditional 72 — had been looming for some time as a potential big-money threat to the PGA Tour, which has its roots in a series of tournaments that have been played for more than 100 years and which has been unchallenged in North America for just as long.
Article content
As recently as February, LIV appeared to have fizzled. The author of a forthcoming book on Phil Mickelson, one of the biggest names in golf, published comments in which the 51-year-old, six-time major champion, described LIV's Saudi benefactors as "scary motherf—ers" but said the business opportunity was too good to pass up. (He was paid a reported US$200 million to be LIV's first marquee signing, unless you count its chief executive, Greg Norman.) Mickelson became a pariah and went into golf exile. The backlash over being funded by the Saudis appeared to have scared off most of his peers. Critics noted the Saudi links to the 9/11 hijackers, the regime's discriminatory treatment of women and its flat-out intolerance of homosexuality, and the infamous murder and dismemberment of Washington Post journalist Jamal Khashoggi.
Article content
By June, though, the lure of huge riches had overcome a lot of fears. Major winners Graeme McDowell and Sergio Garcia were in the field for the inaugural LIV event in London, alongside Ryder Cup teammates Lee Westwood and Ian Poulter. Then came the bombshell entry of Dustin Johnson, the American star (and son-in-law of Wayne Gretzky) who gave LIV its highest-ranked golfer. He was 13th in the world rankings at the time. LIV's first event ran opposite the RBC Canadian Open, and the tournament had to scramble to remove Johnson's image from posters and banners that were already set up at the tournament site in Toronto. RBC dropped Johnson and McDowell from long-time sponsorship agreements, saying it was disappointed but "we wish them well." (It did not wish them well.)
Article content
So began a summer of infighting, in which LIV joiners were summarily banned from the PGA Tour and European Tour, now called the DP World Tour, court challenges were launched, and a steady drip of high-profile players defected from the traditional tour for LIV's Saudi lucre. Most PGA Tour events whittle a 144-man field to about half of that after two days. Only those around on the weekend get paid. LIV has 48-man fields, no cut and shoots prize money out of a fire hose.
By July, with LIV now a clear threat to the PGA Tour, a group of loyalists led by Tiger Woods and Rory McIlroy convened a meeting of stars in which they committed themselves to a PGA that would, ironically, add more limited-field, big-money events to its schedule in coming seasons. (Norman says Woods, who may never play regularly again after a near-fatal car crash in 2021, turned down an offer from LIV "in the neighbourhood" of US$750 million.)
Article content
Amid all the off-course shenanigans, the rumours of who might jump and who was resisting a wooing, it became evident that far more people were talking and writing about LIV as golf's great disruptor than were actually paying attention to the disruption. It didn't have a television deal in the United States or the United Kingdom, where golf broadcasters were aligned with the PGA Tour, and so made its broadcasts available on YouTube worldwide. The events attracted little interest in the mainstream press or on sports highlight shows, beyond the coverage that took place before a LIV event began, when players would reliably be asked about the morality of taking money from a petro state with an appalling record on human rights, and they would reliably mumble something about trying to grow the game of golf, like a small army of Titleist-playing altruists.
Article content
When LIV landed at Donald Trump's Bedminster golf course in New Jersey in the summer, the former president declared that the PGA Tour would eventually have to merge with LIV, and that its early adopters would look like geniuses for taking the giant signing bonuses of its early days. Trump's admiration for LIV has given it a whiff of MAGA support, which is mostly funny because the PGA Tour is not exactly a hotbed of leftists. Trump's pro-LIV comments were widely reported, the eventual winner of the tournament was not. (Sweden's Henrik Stenson, which I had to look up just now.)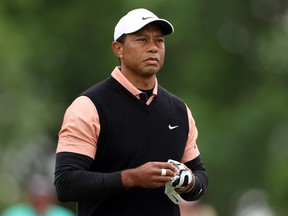 That brings us last week to Jeddah, spiritual home of LIV, and the penultimate event on the calendar.
LIV events are available in Canada on the DAZN streaming service, and they look in part like normal golf tournaments, except for the strange insistence on emphasizing the concurrent team event. The 48-man field has 12 four-player teams, with banal names like Crushers and Stingers, complete with logos that look like dollar-store stickers. (Not among the team names: Bonesaws.) Why viewers would have any interest in a contest among made-up teams is a question only the LIV stewards can answer, but it's incredibly distracting to the broadcast. Instead of just following the individual tournament, host Arlo White, of Ted Lasso fame, says things like "We've now got a three-way tie between the Niblicks, Torque and Fireballs." Great. That doesn't sound contrived at all. The broadcast's other unique element is the frequent use of Twitter posts from random viewers who are saying how much they are enjoying LIV Golf. The producers are not choosy about who gets their tweets on the broadcast: As Sunday's round approached the finish, a post from the user @Bowzer69420 was shown on the screen, despite those numbers referring to a sexual position and a slang term for marijuana. This isn't The Masters, kids.
Article content
Next season's LIV schedule may yet end up on network television, with reports that it will pay FOX for broadcast time, not unlike an infomercial. That the TV networks have not been willing to pay for it, even when live sports are king in the streaming era, is perhaps best seen by LIV's YouTube numbers. Sunday's final round from Jeddah on the official LIV channel had 297,000 views as of Monday morning. A CFL game gets more viewers than that in Saskatchewan alone. For all of the controversy and attention that LIV did generate, it hasn't demonstrated yet that there's an audience for its events. The golf audience may well have been satisfied with previous levels of golf.
The Saudi tournament did make a rich(er) man of Koepka, who won on the third playoff hole. And that remains the curious thing about LIV, which presumably was supposed to allow the Saudi royal family to bask in its reflected glory but so far has mostly existed for the purpose of making some golfers extremely wealthy.
What if you spent a couple of billion on a new golf league and nobody really cared?
The LIV season will conclude at the end of the month at Trump National Doral in Miami. It's exclusively a team event. Go Fireballs, I guess.
Check out our sports section for the latest news and analysis. Care for a wager? Head to our sports betting section for news and odds.